My goal for 2021: to be more sustainable with my activities. And first on my list: sustainable cooking and baking items. I'm tired of throwing away paper, plastic, and single-use objects. I know it's bad for the environment, and I knew that there would be better options out there. So, I did my research, and yep, I'll definitely be incorporating these items into my kitchen! Bye single-use, hello eco-friendly.
Silicon Pastry Piping Bags
Those piping bags you use after one use? Give up on 'em and buy some reusable bags instead. These Weetiee silicone pastry bags include different sized bags and icing couplers, so you can decorate however you want—and be eco-friendly.
Weetie Silicone Pastry Piping Bags, Amazon, $12.95
Reusable Storage Bags
Another fantastic reusable product is the Stasher Reusable Storage Bags. They're non-plastic, and you can throw them in the dishwasher whenever they get dirty. Buy whatever size you need—or all of them. We won't judge!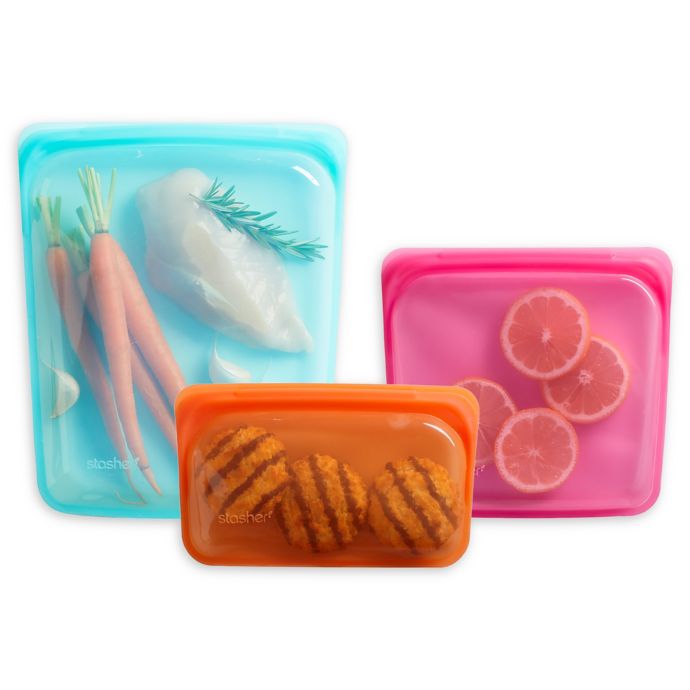 Stasher Reusable Storage Bags, Stasher, $7.99 – $19.99
Baking Mats
If you're sicking shelling out for cooking sprays, aluminum foil, or parchment paper, then these non-stick silicone baking mats are a no-brainer. They fit inside baking sheets and can withstand super heat and freezer chill.
Premium Living Baking Mats, Amazon, $10.99
Bee's Wrap Food Storage
Skip the plastic wrap this time and pick up these storage papers instead. Coming in three sizes, you can wrap up leftovers in this reusable option. Made out of organic cotton, you can wash these off and reuse for up to a year—none of that single-use stuff.
Bee's Wrap Food Storage, Bee's Wrap, $11 – $42
Stink Free Sponge
Sponges get gross real quick, and the smell can be overwhelming, cutting its life even shorter. These sponges are made from plant-based renewable resources. Plus, the scrubber part is made from recycled plastic and walnut shells without glue. On top of that, it repels water, so no stinky bacteria gets in.
Pura Naturals Stink Free Sponge, Amazon, $16.99
Hemp Apron
You won't find any synthetic materials in this apron. Made of 80% organic cotton and 20% hemp (grown pesticide-free), it only gets comfier with repeated wear. It's mildew-resistant and anti-microbial, so don't be afraid of getting dirty!
Hemp Denim Apron, Bambu Home, $31
These are just a few of the best items I've found so far. What are your favorite sustainable products? Let us know in the comments and on our socials! @pacificcookiecompanysantacruz