Temperatures in Santa Cruz yesterday broke record highs for the area at a slightly uncomfortable 86 degrees F. Now, I grew up in Rancho Cucamonga – a Southern California hotspot, smack-dab in a smog encompassed valley – where you could regularly expect summer highs to hit the triple digits, so bearing this measly 86 degree heat was nothing. But I've been spoiled by beautiful beach breezes and cooler, less humid heat for the past four years as I made my way up the coast from Ventura, to Santa Barbara, and finally to Santa Cruz.
Previous heat records for Santa Cruz were 84 degrees in 1935 and 1985, and although this is nothing compared to the sweltering 110 degree weather I grew up with, I surprised myself when I found myself wishing for cooler weather again…or even just a breeze! It reminded me of the times my sister and I would go out on the street and lay down some aluminum foil to cook eggs on. And it got me thinking – how do all those folks who live with extreme heat cope on a regular basis?
Well – Brigid Steven's of Lake Havasu has been baking cookies with nothing but some aluminum foil, a cookie sheet, some pre-made cookie dough, and the dashboard of her Ford Probe GT! These so-called "dashboard cookies" have become something of a hit in Lake Havasu City, AZ and have no doubt been catching some attention! Last year, she baked these cookies as a part of Push America's Journey of Hope – a 4,100 mile cross-country bike event put on by the Phi Kappa Phi fraternity to raise funding and awareness for people with disabilities.
What better way to take advantage of the scorching desert heat than by baking cookies on the dashboard of your car?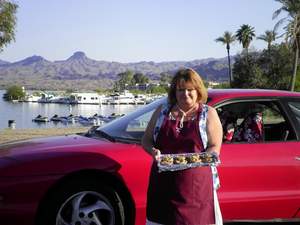 "Mrs. Dash", as she's come to be known, is able to harness the sun's excruciatingly intense solar energy (the inside of her car has been measured at highs of 200 degrees F!) to cook the cookie dough to that nice crispy golden color that we all know and love.
Want to make a trip to taste these novelties? Check her out in Lake Havasu again this year from June 26-27th. Read more about the details of the event at http://www.pushamerica.org/events/JOH/
And the next time you're in a heated situation, just stop, and bake some cookies! 🙂